Rent the ABC Hall for your next meeting, party or reception.
The ABC Hall is an accessible, fully equipped, air conditioned facility with ample parking located near Westport, Maberly and Perth.
FEATURES: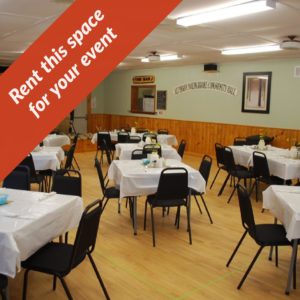 Capacity: 125 (seated)
Wheelchair accessible
Fully equipped kitchen
Air conditioned
On-site defibrillator
Telephone
Bar (Events with alcohol permitted. Renter is responsible for license and insurance)
SUITABLE FOR:
Meetings, classes, workshops and presentations
Parties and reunions
Wedding receptions
Funeral services
Musical performances and dances
2017-2018 RENTAL RATES
Licensed Events:  $150
Full Day:  $100
Half Day (4 ½  hours or less):  $50
RENTAL INQUIRIES
Contact Joyce Fleming, rayjoyce@rideau.net (613) 273-4832.
See ABC Hall Rental Agreement 2017-18 (pdf 71 KB)